If you missed the first two parts, you can read
here
and
here
to catch up!
After dating for about 4 months, we were already talking about getting married. We're both very traditional and practical, so naturally, Country Boy wanted to talk to my Dad before formally asking me to marry him. One problem....my Dad lived in Texas and Country Boy lived in Alabama, and they had only met each other one time previously, during Thanksgiving.
As it turned out, I was visiting my parents at the end of January while my Mom was in the hospital following surgery. While talking on the phone to Country Boy from the hospital room one evening, he asked if my Dad was also there. I handed the phone over to my Dad and heard my Dad's end of "the talk." It was now just a matter of time, waiting for him to pop the question.
We continued to see each other most every weekend, while I was secretly reading Bride's Magazine in my dorm room and had my dress picked out. We then planned a whirlwind weekend getaway to Baltimore, MD in March. I was pretty sure he had something up his sleeve (or in his pocket). We drove 15 hours to Baltimore on Friday and then spent all day Saturday touring Fort McHenry and the Bay and then drove home all day Sunday.
*History Lesson*
Ft. McHenry is where Francis Scott Key penned
The Star Spangled Banner
in 1814. The flag that was flown during the battle was a 15 star, 15 stripe flag that was created after Kentucky and Vermont became states. It was the only flag to have 15 stripes because it was later decided to keep the 13 stripes to represent the 13 original colonies and only add a star for each new state. Known as the Fort McHenry flag, a replica of the original Star Spangled Banner is flown rather than our current 50 star flag. If you look carefully, you will notice that the stripe directlly below the blue field is red, rather than white. It is the only US flag with this distinction.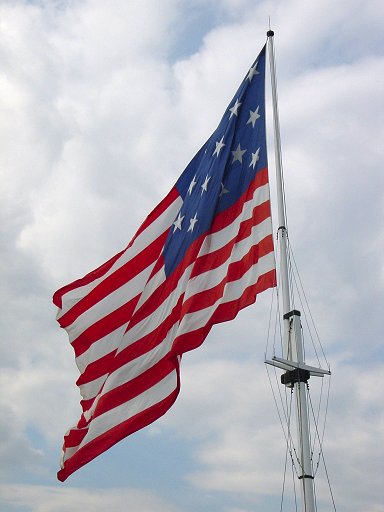 Ok, back to the story....
Saturday evening, we drove to Havre de Grace, outside of Baltimore. We were walking through the small community and along a boardwalk when we walked up to the Concord Point Lighthouse. In front of the lighthouse, Country Boy dropped to one knee and popped the question. Of course I said "Yes!" Otherwise, we wouldn't be where we are today!
As it turns out, Country Boy had taken a business trip to Baltimore several months before we even met and knew about the lighthouse. Therefore, he had the whole evening planned out.
So, that's how it happened. We were married 5 months later, and I stepped into a life filled with gravel roads, mud-clad boots and jeans, cow poop, hay bales, John Deere green, and some of the most beautiful sunsets and star-lit nights you can imagine! And now, I wouldn't trade it for anything!